---
Welcome to Three Bells Artisans home of Three Bells Tapestries
Here you can find some of the most wonderful Tapestries found in the world. 
Should you not find exactly what you are looking for- keep in mind we can produce a custom Tapestry for you as well. From Pets to Places, we can weave joy into your heart!
If you are interested in a custom tapestry, go to our Contact Us page and let us know.
You can also go to our Customs site www.petigreeportraits.com and reach out to us there.
---
Where do our Tapestries originate?
We import our Jacquard woven Tapestries from Belgium, France, Italy, Spain, while others are produced here in New World (the USA).
We then finish the post-production work on them, making them into Pillows or Wall Hangings. A few do arrive fully completed from the weavers in Europe.
All tapestries below 36" in width do come with a temporary dowel ready to be displayed. 
Please Note- All sizes are approximate. Remember, these are textiles and they may shrink or stretch up to 5% during the production process.
Please allow up to 2 weeks for deliver.
---
Featured Tapestries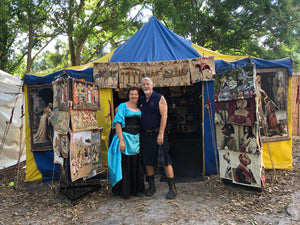 Come visit us!
You can find us at many Renaissance Festivals including:
Brevard Renaissance Faire- Melbourne, FL
Florida Renaissance Festival- Deerefield Beach, FL
Scarborough Renaissance Festival- Waxahachie, TX.
Bristol Renaissance Faire- Kenosha, WI
New York Renaissance Faire- Tuxedo Park, NY
Carolina Renaissance Festiva- Huntersville, NC
Louisianna Renaissance Faire- Hammond, LA